- SHIPS FOR SALE -
Tornado RIB
<![if !vml]>
<![endif]>
<![if !vml]>
<![endif]>
<![if !vml]>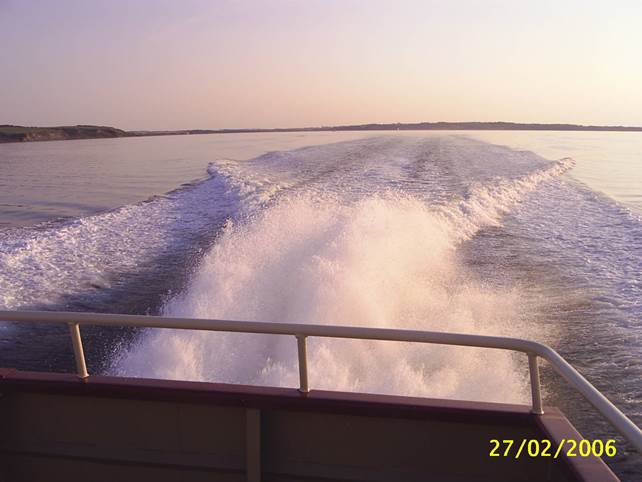 <![endif]>
(English text after danish text Below)
Tornado, RIB, årg. 2014, 28 fod, 300 hk , Suzuki, benzin, motorårgang: 2014, saltvandskølet, udenbordsmotor, skrog: glasfiber, bredde 2,8, dybde 0,5, Kg 1500, hjemhavn: Nordsjælland
Tornado RIB "8.5m Multi Purpose RIB" (8,5 x 2,8 meter).
Meget velholdt, velsejlende, stærk og sikker RIB fra danske "Tornado Boats International".
Båden er godkendt af Søfartsstyrelsen til sejlads med 10 passagerer (+2 Besætning).
300HP Suzuki (40+ knob)(726 timer)(1,2 l/sm @ 30 knob) med bandslukningsanlæg i motor.
2 stk. 8 pers. redningsflåder (2018), LED Nav. lys, Garmin 6012 plotter, Garmin GMR18HD Radar, VHF-DSC RO6800AIS (2018), div. instrumenter, kompas, 2 x GPS tracker, redningsveste, anker, værktøj, fortøjninger, slæbetov, nødraketter, førstehjælp, brandslukker m.m.
Sælges inklusiv dokumenter: Dansk Nationalitetsbevis, Målebrev, Tilladelse til sejlads med passagerer, Dansk Kaldesignal, Sikkerhedsinstruks.
Båden er ny certificeret med Kaskoforsikring, ansvarsforsikring og passagerforsikring, medlemskab af DSRS sø assistance.
Inkl. nyt arrangement (i rustfrit stål og alu., ikke vist på billeder) for let og sikker adgang fra stævn inkl. arrangement for de 2 stk. redningsflåder!
Inkl. Original Suzuki motor software og hardware til PC!
English:
RIB for sale, passenger etc.
Tornado, RIB, year. 2014, 28 feet, 300 hp, Suzuki, petrol, engine year: 2014, salt water cooled, outboard motor, hull: fiberglass, width 2.8, depth 0.5, Kg 1500, home port: North Zealand
Tornado RIB "8.5m Multi Purpose RIB" (8.5 x 2.8 meters).
Very well maintained, well-laid, strong and secure RIB from Danish "Tornado Boats International".
The boat is approved by the Danish Maritime Authority for sailing with 10 passengers + 2 Crew.
300HP Suzuki (40+ knots) (726 hours) (1.2 l / cm @ 30 knots) with built in fire extinguishing.
2 pcs. 8 pers. Life rafts (2018), LED Nav. light, Garmin 6012 plotter, Garmin GMR18HD Radar, VHF-DSC RO6800AIS (2018), div. instruments, compass, 2 x GPS tracker, lifejackets, anchor, tools, moorings, tow rope, emergency rockets, first aid, fire extinguisher and more.
Sold including documents: Danish National Certificate, Measurement Letter, Permit for Sailing with Passengers, Danish Call Sign, Safety Instructions.
The boat is newly certified with insurance, liability insurance and passenger insurance, membership of DSRS sea assistance.
Incl. new arrangement (in stainless steel and aluminium, not shown in pictures) for easy and secure access from the bow incl. arrangement for the 2 x 8 pers. life rafts!
Incl. Original Suzuki engine software and hardware for PC!
Also for sale:
Fast multipurpose vessel
Type of vessel: Aquaculture support vessel, Fishing, charter, survey, taxi etc.
Built: 2006 Denmark.
Material: Aluminium AlMg4.5Mn certified.
Length: 14.98 meters (LOA 16.14 meters)
Beam: 4.80 meters
Draft: 1 meter (moulded draft 1.96 meters)
Tonnage: 19.8 GT, 5.9 NT
Main engines: 2 x MTU / Mercedes V8 type: 8V183 TE92, each 665 hp at 2300 rpm, total 1.330 HP. Drive transmission ZF with reduction 1.5 : 1, LDU stainless steel surface drives.
Fixed fire suppressant in engine room, FM200/HFC227.
Bow thruster: Sleipner 8KW/11 Hp (24VDC)
Speed: Up to 30 knots.
Bunkers: Diesel: 2.500 litres. Fresh water: 1.000 litres. Black water: 800 litres Stainless steel.
Classification: Danish Maritime Administration, 12 passengers in Danish waters. Hull constructed to Lloyds Register: Special Service Craft G3 (max. 150 nm from coast - max. 30 knots).
Equipment: Koden GPS compass KGC-1, and magnetic compass "Nautisk Service DK" wheel marked, Furuno GP-7000F GPS/Chart-Plotter/Echo-sounder TFT, Simrad/Anritsu RA722UA radar with ARPA, Furuno RO-4500 DSC VHF, Simrad/Robertson AP35 auto-pilot, AIS Class B, intercom, 20-persons DSB life raft, Electric anchor winch, 2 anchors with ½ inch galvanized chain. Central heating from oil burner in engine room. 24 VDC system with 230VAC 3000W inverter, 3 cyl. diesel with 4 KVA 230VAC generator.
General arrangement: Forpeak with space for anchor chain and rope etc.
Wheelhouse in front, behind wheelhouse is deck house with seats and tables for 14 persons and galley with kitchen table with drawers and sink, two-burners, stove, fridge and deep-freezer.
Top of deckhouse contains flybridge/sundeck with manoeuvring equipment.
There is a WC and shower with access from the deckhouse and another WC with access from aft deck, both with washbasin including hot and cold water.
Stair from wheelhouse leads to a 19 square meter saloon below wheelhouse and deck house, from this saloon a watertight door leads to another 18 square meter saloon with stair to aft deck.
Engine room below aft deck.
Very usable for crew transport to windmills, certified by DMA for 12 passengers!
Position: Denmark.
Price: 260.000,- Euro
Pictures: http://havhesten.ships-for-sale.dk/
Information, write to: mail@ships-for-sale.dk